Drymix White Cement
Drymix White Cement is an excellent quality pure white cement.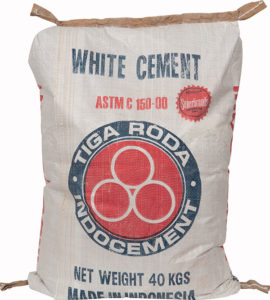 Asphalt in a Bag
Asphalt in a Bag is a ready-to-use pre-mix bituminous mixture which is manufactured for permanent use and repairs of tar-sealed roads or pathways.
Asphalt in a Bag is an all weather road repair that is effective in temperatures ranging from -26C to 49C. This ready to use pre-mix bituminous mixture is manufactured from selected aggregates and bitumen using a co-polymer process which creates a tenacious bonding material. Asphalt in a Bag is unique because it is a permanent repair with the ability to expand and contract with the road's surface. The curing process of Asphalt in a Bag is activated by impact and it will bond to asphalt, concrete, steel and even wood.
Asphalt in a Bag's application is five times faster than normal and the repair can be opened to traffic immediately.
Latest Test Results are in – Water Absorbance is 0.6% & Air Voids of 7.1%
Directions for use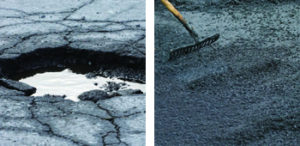 Remove all loose debris from the pothole or damaged pavement. With a shovel, apply enough Asphalt in a Bag to crown the patched area. Tamer with the back of the shovel, plate compactor or wheel roll with the tyres of a vehicle.
For holes 15cm deep or more, apply In 5-7cm layers, compacting Asphalt in a Bag each time.
On conventional utility cuts or when Asphalt in a Bag is being applied over disturbed sub base aggregates, it is necessary to compact the base as you would in any standard pavement repair application.
Simply apply Asphalt in a Bag and compact with a plate tamper or a rubber wheeled asphalt roller. Asphalt in a Bag may be overlaid with conventional hot mix asphalt and is completely compatible.
Once applied, Asphalt in a Bag takes traffic immediately and requires no setting time due to the tenacious bond of the Instant pot hole repair patch.
This means there is less than 1% chance of water and moisture getting into the product. Asphalt compacted to less than 8% Voids provides a non-permeable layer, providing greater durability form the detrimental effects of air and water."